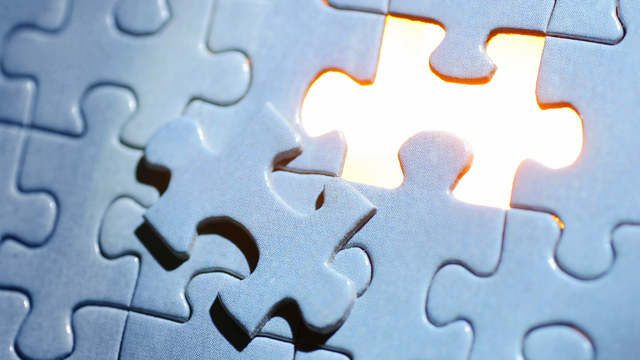 Do you remember middle school? There is no time in our lives quite like it—the school dances, the note passing, and the awkwardness of growing up. Who can forget that precarious time of life when the two things we want more than anything else is to fit in and to feel valued? If only we understood then what kabbalists know to be true: we do fit in. In fact, each and every one of us fits together so perfectly in life, that no one else can take our place. Like puzzle pieces scattered over a table, we spend the early part of our lives trying to figure out exactly where we belong. This quest can be so unnerving that it's easy to forget that we do have value, each of us playing an equally important role in the big picture.
Where do we fit in? Though we begin to answer this question early in our lives, some of us spend a lifetime searching for the answer. In doing so, we can become overly focused on our own place in life. Kabbalah teaches us that while we are searching for the place where we fit best, we are also responsible for helping others find their place in the big picture. We are neither the most important nor unimportant at all. (Our egos will have us believe otherwise.) Everyone must be accounted for; we all play an essential role. The big picture will not be complete until every single one of us achieves spiritual transformation.
"Most of us think that all we need to do is contribute our fair share to bringing about the Gemar HaTikun, the end of pain and suffering in this world," says Michael Berg. Yet, life is not a solitary endeavor. We must work together. "Since others are involved in this work as well," Michael continues, "we figure that some people will do a little more, others a little less, but together our contributions will tip that balance. But it doesn't work that way. Every person in this world has a specific job that nobody else can do. Unless we do ours, we will be holding everyone else back." Every puzzle piece must find its place.
Our place in this world is where we can affect the most change and make a difference in the lives of others. Our place is where we grow. But what we need to remember is that "fitting" can feel like not fitting at the beginning. It can feel awkward as we step outside of our comfort zones to share with and help others. Discomfort leads to growth; growth leads to spiritual transformation. And we know we've found where we fit when we achieve spiritual transformation.
We are more important than we realize. The way our lives fit together actually strengthens us, enhances our experience, and helps us to grow collectively. Aligning our goals with the larger picture helps everything fall into place. "You must learn to see the unity of your own interests with the interests of everyone around you," says Michael Berg. "You are all part of the same Vessel that was shattered and that must again be made whole." Together we complete the picture.