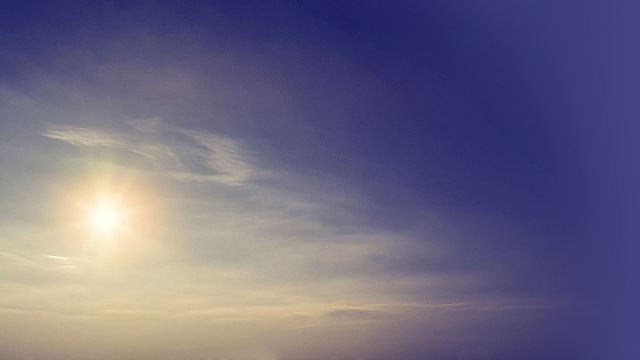 There are moments in our lives that are beyond challenging, moments when we imagine things can't possibly get worse. And then sometimes they do. In the course of our lifetimes, we will experience high highs and low lows. But contrary to what you might think, it's the lows that offer us the greatest opportunity to bring Light into the world.
The kabbalists teach that we often must go through a painful process in order to find the Light, fulfillment, and blessings we desire. This involves transforming our Desire to Receive for the Self Alone into a Desire to Share, which is our purpose here in our lifetime.
"Every great blessing and revelation that comes to us," says Michael Berg, "has a negative shell around it, which needs to be removed in order to receive the Light within it." If this sounds as if the Light is hiding from us, you're not too far from the truth.
The first chapter of the Hebrew Bible, Beresheet, tells the story of creation. On the first day, the Creator said, "Let there be light." However, the sources of light—the sun, the moon, and the stars—were not yet made. That happened on the fourth day. Kabbalists believe that what was created on the first day was not light as we know it; it was actually consciousness.
The Zohar tells us, this Light was everywhere and the Creator needed a vessel to hold it all—to receive it and share it. So, He hid the Light within nature and within us. Our purpose in this lifetime is to find the Light and reveal as much of it as we can. "Our spiritual work is to reveal all of the Light that was originally placed in our Vessel," says Karen Berg, "and then to become a beacon of Light for others."
This is where great difficulties arise.
We reveal Light through sharing. And that seems easy enough. But sharing is not simply an act. It is also shifting the way we see our lives and our relationships to those around us. It requires enough awareness to share with a kind heart, to desire to truly help others.
Furthermore, the process of revealing Light is never ending. We may make changes and grow, only to discover that there is more work to do. Even those of us who are very spiritually aware must continuously work while striving for deeper spiritual understanding in each moment.
Each time we come up against a negative situation, our first impulse may be to turn the other way, to avoid it entirely. But we must remind ourselves that these negative situations are opportunities to find and reveal Light. And if, in that moment, we can shift our perspectives to be more caring and eager to help others, we become closer to our true selves. "Transforming who you are doesn't mean becoming something outside your nature," says Michael Berg. "It means rediscovering your true nature, who you really are. The spark of the Creator is already within you. You just need to fan that flame through positive actions of sharing."
Of course, we can also reveal Light by reading sacred texts, praying, or meditating. Still, it is important to remember that Light is often hidden in the most challenging and unlikely places. If you approach each challenge with an intention to discover and reveal Light, no opportunity will ever be missed.
Remember, "The greater the Light and blessing, the more hidden it must be." – Michael Berg