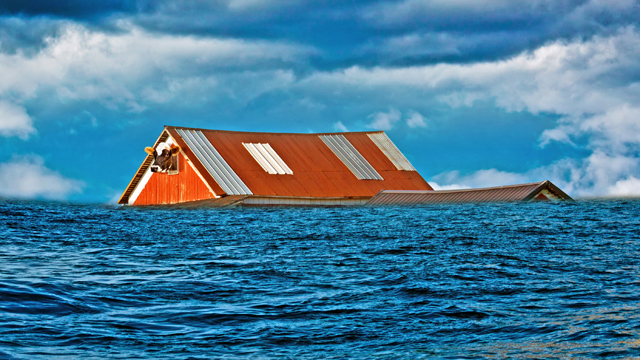 Kabbalah explains that after a large build up of energy – as the universe just experienced during the High Holidays (Rosh Hashanah, Yom Kippur, Sukkot, and Simchat Torah) – there can be a feeling of emptiness, or a fall out. The reason for this emptiness is that after we draw in a large amount of Light, there needs to be a vessel to hold said Light. Our vessel is our ability to receive fulfillment, which is what we are calling Light. The reason there is a fall out is because our vessel cannot maintain this intensity of energy.
This week's portion, called Noach, is usually recognized as the portion of the flood, where great destruction occurred. Kabbalah teaches that this flood, which happened over 5,000 years ago, occurred at a time where there was a great amount of negativity in the world. In order to cleanse this negativity, a flood came and washed away everything. The only survivors were a righteous individual named Noah and his family.
In his generation, which was a very negative generation, Noah was considered a Tzadik – a righteous person. Noah, amidst all this negativity, had certainty in the Light of the Creator. He never forgot the Creator. However, if we move forward to the generation of Abraham the Patriarch, another spiritual giant, we would actually find that Noah is not so righteous when compared to Abraham. When compared to the level of certainty in the Light that Abraham had, we would see that Noah actually didn't have that much certainty himself.
The same goes for us and where we are today. If we look at our past and compare ourselves to what we have done or accomplished, there are probably many things that we would feel great about. But, if we were to compare our past to the perfected version of ourselves in the future, we would see how much more there is to do.
In order to build a strong vessel, we cannot look back on our past in order to feel good about ourselves. This week's energy helps us build a strong vessel without getting stuck on our past, instead pushing us forward to who we could be in the future. The certainty I have in the Light of the Creator today is nothing compared to the certainty I could grow to have in the future.
It is written that Noah was favored in the eyes of the Creator. This week we also receive the strength to be able to look at people the way the Creator looks at people. We gain the ability to see the good in people, rather than the bad.
The Hebrew word for Noah means 'comfort'. Noah wasn't a person who went outside of himself to push people to grow, change or share; he did the spiritual work that he was comfortable with. That's part of the reason why, when compared to other spiritual leaders over time, he is not considered to be so righteous. In order to grow and strengthen our vessel, we cannot remain comfortable. Our certainty needs to be in the Light of the Creator, and in our spiritual growth, not in the comfort zone.
The Hebrew name of Noah is also a code word for 'the concealed wisdom', which is the wisdom of Kabbalah. Kabbalah teaches the power of consciousness. When Noah heard that the flood was coming, he refused to believe it was true because he was afraid that he would create that reality with his consciousness.
Rav Berg always used to say that consciousness is everything. We know that if we use our consciousness to create an unlimited desire to see ourselves as powerful beings – and to create an unlimited vessel for ourselves – then that is the reality we will experience.