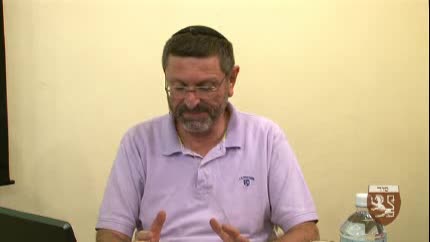 You must have a
Premium Membership
to access this content.
Click here to upgrade your account.
Published: December 6, 2013
Originally recorded: August 2, 2009
---
Lesson Highlights
The root of contradictions

Feeling unique and forgetting unconditional love

Harnessing the ego

The top of the pyramid

The ability to rise about our nature

Seeing what we can exploit in others and how we can rise above this ego

Desire to Receive comes first followed by the intellect

I.Q.: our subconscious desire

Fulfilling our inner desires

Paradox: the facets of a diamond

The difference among people is the level, intensity and combination of desires

Mercy, Truth, Righteousness, Peace and Unique Individuality

Avoiding the process of chaos through Kabbalah
---
About This Course
In Rav Ashlag's article On World Peace, Rav Ashlag reveals the four elements that we need to create peace in the world: Mercy, Truth, Righteousness and Peace. During this series of classes, Meir Yeshurun explores what Rav Ashlag reveals about how humanity can live together as a global community.
---
Course Instructors